12 Renaissance Women's Clothing
Although the Renaissance era had ended a few centuries ago, their style is still unique as a party or festival costume. Some of renaissance women's clothing are made by design, following the vintage or retro concept. Here are some dresses you need to see as inspiration.
12 Renaissance Women's Clothing
Gothic Victorian Ruffle Dress
The sleeveless dress has the pirates concept which is great for any performance occasions like concert or halloween party. The detail is very feminine with ruffles, v-neck, and asymmetric design. It's very common to wear in Renaissance festival because the fabric is soft and comfortable.
Medieval Irish Dress
This costume is very chic to wear. The long vest-like is very colorful to combine. It's floor-length with unique bell sleeves, high waist and criss-cross lace up at the front part. Besides elegant look, this costume is also fancy to attend many parties such as christmas, halloween, birthday and play.
Hooded Robe Pullover Dress
It's a midi dress that the length is just until your knee or half of your legs. At the back, the hoodie size is oversize. The dress has long sleeves with the thumb hole. There are several lace-ups at the front to form the waist. It's great to combine with jeans or leggings as casual costume.
Renaissance Asymmetric Dress
The asymmetric design is very common to find in Renaissance women's clothing such as top, skirt, and the dress. This dress has combination of top and skirt with different colors. The flare sleeves are very wide with elastic part on the neckline and waist. You can combine it with corset too.
Gothic Witch Dress
Since it's gothic concept, the color option is usually black and emerald. It's floor length dress with ruffle and the bottom part is Irish design. Though it's long-sleeved, but it's sexy off-shoulder dress. The chest and waist part is stretch and breathable for the plus size women.
Gothic Retro Gown
The vintage style of this dress is very unique. It has corset to form the curve line of yours, meanwhile the sleeves are trumpet. The dress is floor length and consists of two colors. The vest-like comes with cool tone colors such as blue, burgundy, yellow and purple.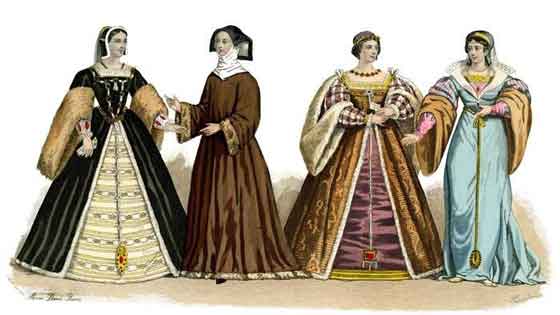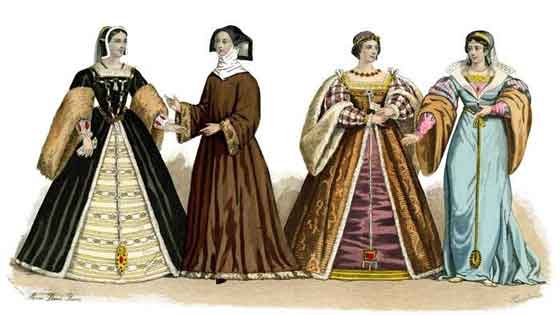 Bridget Renaissance Dress
The dress fits for wide range of body sizes. It's simple and sweet with the bust and rear tie. The sleeves are short and they are puffy. The bottom part is embroidered skirt. When you pull aside, it has sheer crepe of panels. Bridget dress beautifies your daily look.
Off-shoulder Pirate Tops
The top of Renaissance women's clothing is always beautiful. Off-shoulder design is combined with trumpet sleeves and smocked waist. You can wear it as blouse and you'll look elegant/ The bodice shows the charming curves. It also fits different seasons and styles.
Renaissance Wench Costume
The Renaissance era was well-known with beautiful wenches and they had beautiful costumes too. The set consists of the ruffle top, corset and skirt with high slit. The top has cup bust and elastic, combined with the lace-up corset at the bottom. The skirt has darker color and slit to show your boots.
Over Long Retro Gown
Another option which was usually worn by Renaissance women is over-long dress. Not only vintage, but the look is also retro. It has luxurious aura with lace-up on the waist to chest. The dress is longer than any floor-length dress. Besides the pirate costume, you can wear it for cosplay and festival.
Chemise dress
It's more simple than any other Renaissance  clothing. It's just one piece with floor-length and ruffle all over the body. Chemise dress has elastic neckline and could be worn as off-shoulder dress. It's suitable for you who want to look slender at special occasion like party.
Irish long dress
Besides its unique flare sleeves, the dress is also floor-length. Both parts, front and back, have lacing under the bust. Lacing is used to adjust your body shape. The blouse has elastic neckline with an outer vest in a lacing strap at the shoulder. It's very good choice for theatrical performance.
So, which dress is your favorite to wear for your festival or party? All  Renaissance women's clothing has different styles, but still in the same vibe. If you wanna attend the vintage concept party, choose  Renaissance clothing for a better look.